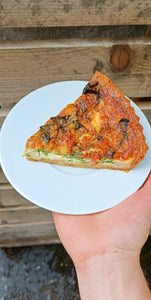 Check out my new quiche to get in those proteins , veggies and an injection of calcium !! My quiche is bursting with the goodness of traditional quiche but with a new slant !! It is made with a traditional recipe but I have added Mixed Mushrooms Orangic Spinach and Labneh, giving this quiche lots of flavour and texture.
This is the ideal lunch.
Collection 12pm - 5pm
Sold as a 10 inch tart serves approx 8 slices.
Store in Fridge.
Warm in oven 170 degrees for 10 minutes. 
To be eaten within 2 days.
Allergens 
Dairy
Gluten
Eggs
Made in a kitchen that contains Nuts and Seed.