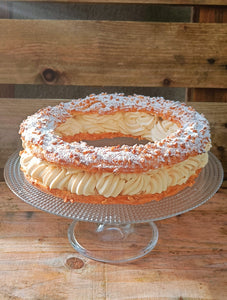 This classic French pasty is made of choux pastry which is light and airy. It has a crip top from the toasted nibbed almonds. We them filled it with a delicious Baileys Cream. 
This is the perfect Christmas Day dessert. It not only tasted amazing it also will look the part on the center of your table ! 
Collection 12pm - 4pm
To be eaten within 2 days.
Serves 8/10.
To be stored in the fridge.
Allergens:
Dairy
Gluten
Eggs
Almonds