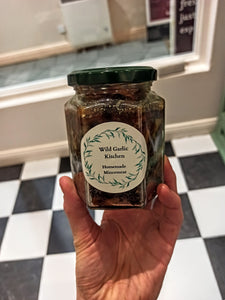 Why not avail of a Jar of some festive Mincemeat, containing a mixture of Homegrown Apples, Dried Fruits, Lemon Zest and Jameson Whiskey. My Mincemeat has been marinating for two month to intensify it's flavours.
Making Homemade Mince Pies taste even better !
Sold in 340g Jars.
Collection 12pm-4pm
Ingredients 
Homegrown Apple from Ballyvaughan.
Raisins
Currants
Sultanas
Butter
Lemon zest
Orange zest
Sugar
Jameson Whiskey